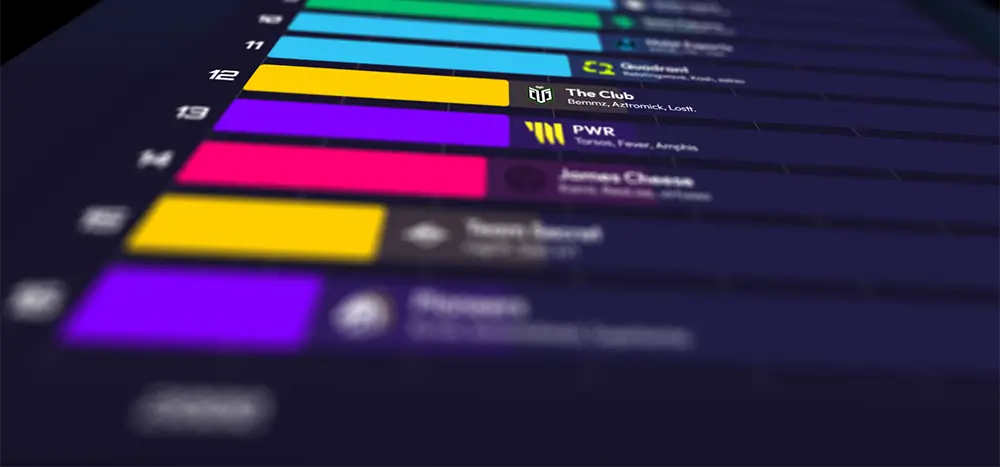 Fall Major AI Predictions Retrospective
If you're looking for the original article from before the major, you can find it here.
I promised a post-major article so here it is. I apologize for the significant delay. Unfortunately, I caught COVID at the Major, and it wasn't a minor case either. Two weeks later I am still coughing and have minor headaches, but I'm decent enough to start working again.
Keep on reading for
the changed team ratings
what the AI got right and wrong
the new top 30 players at the Major
What the AI got right
The AI predicted an NA winner 74% of the time, and it came true. It may not have been exactly as expected, but when it predicts 74%, then that includes a few percent in which NA gets absolutely slaughtered but still provide the winner. It wasn't even that bad, as EU and NA went exactly 50/50 overall.
Falcons didn't make Top 8. Since they didn't do it at worlds, some analysts also predicted this. Others expected the comeback and ranked them as highly as Top 5 in the world.
The Club didn't do too well. Countless predictions had them Top 8. They're not a bad team, but majors are super stacked and their performance wasn't good enough for that.
Pioneers went 0-3. Karmine went 3-0. There's not much to add to this, except to show it to the people that rated Pioneers above PWR.
There are more things correct, but I don't think it's worth it to discuss every single match or team without surprise.
What the AI got wrong
Only 3 NA teams in Top 8. Since it's statistically unlikely for 0/5 teams to screw up (G2 this time), the AI expected 4 NA teams to make it. Much of the pain was caused by Oxygen's surprising Swiss run. They took out 3 NA teams on their own and that caused FaZe and GenG to meet each other, followed by SSG vs. FaZe, forcing a 2nd NA knockout. I could line up endless excuses, but that wouldn't serve any purpose. EU did better in the Swiss, and NA did better in the knockout stage. It may be interesting how much the results caused the AI to adjust. All EU teams are now about 20 points further up, relative to NA. You can see for yourself in the graph that it doesn't make that big of a difference. NA still > EU according to the AI. It may be worth it to adjust for LAN location in the future, as there is now even more evidence of NA teams (or specifically G2) doing worse in EU. I generally shy away from such factors, as the sample size is rather low, and it's not possible to draw conclusions from single occurences.
Moist getting to the grand final. No human analyst predicted this either. When the team formed, the talent justified a rating high enough for this result; however, all of Moist's results prior to the major, hadn't been up to that standard. I had alternative models where Moist was higher rated. That was because I removed a poor result from them in the NA tournament. It does, however, not change anything about predictions. In all cases, Moist were predicted to lose to Gen.G, Karmine, FaZe, and G2, and they were predicted to beat everyone else they met. I guess they're just LAN players (another factor I may want to consider adding to the AI).
Team Secret making semi-finals was an even bigger surprise. Once again, nobody else really expected it. For the AI it was a general disregard of SAM, while most others thought them much worse than The Club. Their rating has shot up by the biggest amount, but you'll also find that they're still not Top 10. This isn't because of an anti-SAM bias. Slowly adjusting rating provides better predictions for the AI. Moist is only 8th for the same reason.
Overall, I don't think it got too many trends entirely wrong. The EU-NA imbalance in Swiss came mainly from Oxygen performing surprisingly well. They had shown peaks like that before, but you never knew when you get to see those. It's never possible to predict everything correct. Humans may use that argument to make an educated gamble on a minor region team, but the AI will always stick towards prior favorites. I don't think that is a mistake. After all, G2 made countless unforced errors and still ended the Swiss 2-3 while Team Falcons and The Club went out 1-3. All three teams are great and capable of making a run like Team Secret when they pop off. I just think G2 still has the best chance.
Changes since the Major
Although Daniel took over first place at an early portion of the Swiss stage, Firstkiller once again proved that he is 'him' in the head-to-head. All Gen.G players have now united in the Top 10. ApparentlyJack is now also rated as their MVP by the AI, claiming 4th in the world. With their 3-0 runs in Swiss, OXG and KC members Archie and ExoTiiK have risen into the Top 10 as well. Joreuz and oaly have also gained a fair bit of rating.
The biggest gain was by the surprise success Sad. He wasn't even on the list, and now he is in 12th place. Right next to him in 11th place is rise, who made up the majority of that rating in just day 1. Truly a LAN boy. The rest of Moist and Team Secret have also moved up a noticeable amount.
The biggest losses were dealt to the two NA teams that didn't make the playoffs. Daniel and Atomic came away mostly unscathed, due to their individually outstanding statistical performances. Their teammates are down 50-100 rating points.
Despite their teams' disappointing performances, Lostt and Kash have proven themselves as LAN players and kept their spots in the list.
Conclusion
TL;DR: NA won.
The AI didn't get everything right, but that's impossible. The tournament was certainly more positive for EU than predicted. On the final day, though, EU went 0-3 against NA. It might be worth it to add some factors for LAN players and LAN location.
Everything I wanted to do is significantly delayed because I got sick. I still have more stuff coming on this website. So, keep an eye out.
Shoutout to ShiftRLE (previously Octane) for having an amazing database of esports matches. It is essential to feeding the AI with info.
Thanks a lot for reading.
Halfie out