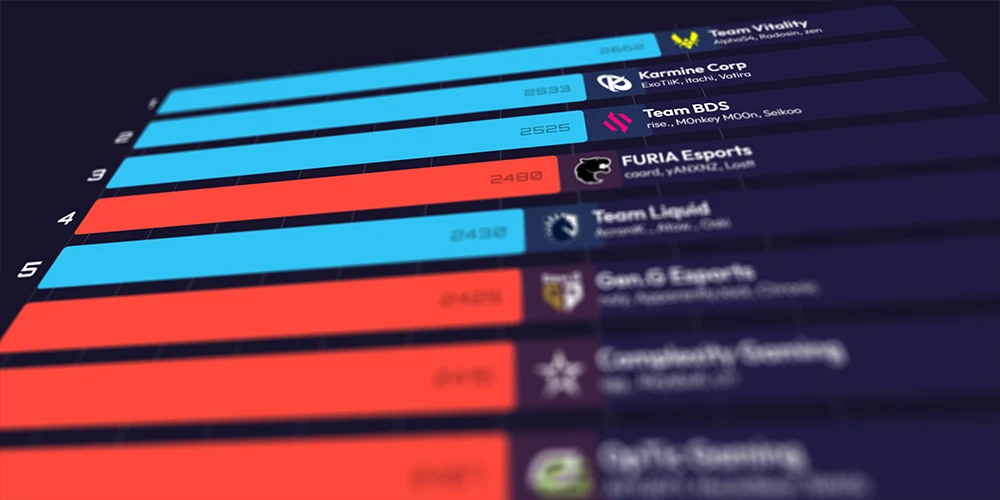 Spring Major AI Predictions after Day 1
Edit: I made a mistake that I didn't catch. Optic vs. Moist was missing in the bracket simulation. After fixing it, EU 4 is predicted to qualify 99.5% of the time! And MENA will likely have to steal the last spot from NA3 or SAM1 which could turn out much more difficult.
Here are the updates for the Spring Major odds after Day 1. All EU being in the upper bracket has decimated every other region's (low) chances of winning the tournament. It also puts G1 in a likely spot to qualify for Worlds. V1 may have liked Moist beating their two competitors, but that has also secured NA 4 never qualifying for Worlds, which means that if any of Optic or Furia now make Top 8, it's finito for V1. Even without that, there is a low but realistic chance that NA 3 will not qualify directly for Worlds.
Table of contents:
AI Simulated Major
| Name | Top 1 | Top 2 | Top 3 | Top 4 | Top 6 | Top 8 | Top 12 |
| --- | --- | --- | --- | --- | --- | --- | --- |
| Team Vitality | 63.7% | 81.8% | 91.4% | 95.7% | 100.0% | 100.0% | 100.0% |
| Elevate | 0.0% | 0.0% | 0.0% | 0.0% | 0.3% | 1.6% | 10.1% |
| Complexity Gaming | 0.0% | 0.9% | 3.4% | 12.2% | 29.5% | 50.2% | 100.0% |
| Team Liquid | 0.2% | 2.4% | 6.6% | 11.7% | 35.8% | 56.4% | 89.9% |
| Team BDS | 13.2% | 36.7% | 62.2% | 78.9% | 100.0% | 100.0% | 100.0% |
| Gen.G Esports | 0.0% | 0.4% | 1.6% | 3.7% | 16.2% | 36.1% | 70.1% |
| KRÜ Esports | 0.0% | 0.0% | 0.1% | 0.3% | 2.4% | 9.3% | 29.9% |
| Rule One | 0.0% | 0.9% | 3.7% | 14.0% | 36.3% | 79.4% | 100.0% |
| Spacestation Gaming | 0.0% | 0.5% | 2.2% | 5.1% | 23.7% | 54.6% | 100.0% |
| PWR | 0.0% | 0.0% | 0.0% | 0.2% | 1.4% | 8.7% | 45.3% |
| Karmine Corp | 20.7% | 60.0% | 83.2% | 93.0% | 100.0% | 100.0% | 100.0% |
| Ground Zero Gaming | 0.0% | 0.0% | 0.0% | 0.3% | 2.2% | 11.9% | 54.7% |
| FURIA Esports | 0.1% | 1.5% | 4.8% | 14.1% | 29.3% | 45.7% | 81.6% |
| Moist Esports | 2.1% | 14.3% | 38.9% | 66.1% | 100.0% | 100.0% | 100.0% |
| OpTic Gaming | 0.0% | 0.5% | 1.9% | 4.7% | 21.5% | 42.1% | 100.0% |
| Ninjas in Pyjamas | 0.0% | 0.0% | 0.0% | 0.2% | 1.3% | 4.1% | 18.4% |
AI Projected Worlds Slots
| Slot Name | Initial Points | Main Event |
| --- | --- | --- |
| EU 1 | 64 | 100.0% |
| EU 2 | 36 | 100.0% |
| EU 3 | 28 | 100.0% |
| EU 4 | 22 | 99.5% |
| EU 5 | 12 | 0.0% |
| NA 1 | 64 | 100.0% |
| NA 2 | 42 | 100.0% |
| NA 3 | 28 | 88.6% |
| NA 4 | 24 | 0.0% |
| NA 5 | 14 | 0.0% |
| OCE 1 | 18 | 2.5% |
| OCE 2 | 10 | 0.0% |
| SAM 1 | 34 | 96.7% |
| SAM 2 | 16 | 0.0% |
| MENA | 16 | 12.7% |
| APAC | 10 | 0.0% |
AI Projected Worlds Teams
| Team | Region | Main Event | Wildcard |
| --- | --- | --- | --- |
| Team Vitality | EU | 100.0% | 100.0% |
| Elevate | APAC | 0.0% | 100.0% |
| Complexity Gaming | NA | 87.5% | 100.0% |
| Team Liquid | EU | 100.0% | 100.0% |
| Team BDS | EU | 19.1% | 100.0% |
| Gen.G Esports | NA | 100.0% | 100.0% |
| KRÜ Esports | SAM | 82.8% | 100.0% |
| Rule One | MENA | 12.7% | 100.0% |
| Spacestation Gaming | NA | 1.1% | 100.0% |
| PWR | OCE | 0.2% | 46.8% |
| Karmine Corp | EU | 100.0% | 100.0% |
| Ground Zero Gaming | OCE | 0.3% | 55.7% |
| FURIA Esports | NA | 0.0% | 37.0% |
| Moist Esports | EU | 80.4% | 100.0% |
| OpTic Gaming | NA | 0.0% | 26.2% |
| Ninjas in Pyjamas | SAM | 13.8% | 100.0% |
| FaZe Clan | NA | 100.0% | 100.0% |
| G2 Esports | NA | 0.0% | 100.0% |
| Version1 | NA | 0.0% | 25.4% |
| Oxygen Esports | EU | 0.0% | 100.0% |
| G1 | EU | 0.0% | 99.5% |
| Pioneers | OCE | 2.1% | 100.0% |
| Merge Esports | OCE | 0.0% | 0.0% |
| Team Secret | SAM | 0.0% | 96.7% |
| eRa Eternity | SAM | 0.0% | 0.0% |
| Team Falcons | MENA | 0.0% | 100.0% |
| Twisted Minds | MENA | 0.0% | 12.7% |
| Gaimin Gladiators | APAC | 0.0% | 100.0% |
| The Patriots | APAC | 0.0% | 0.0% |