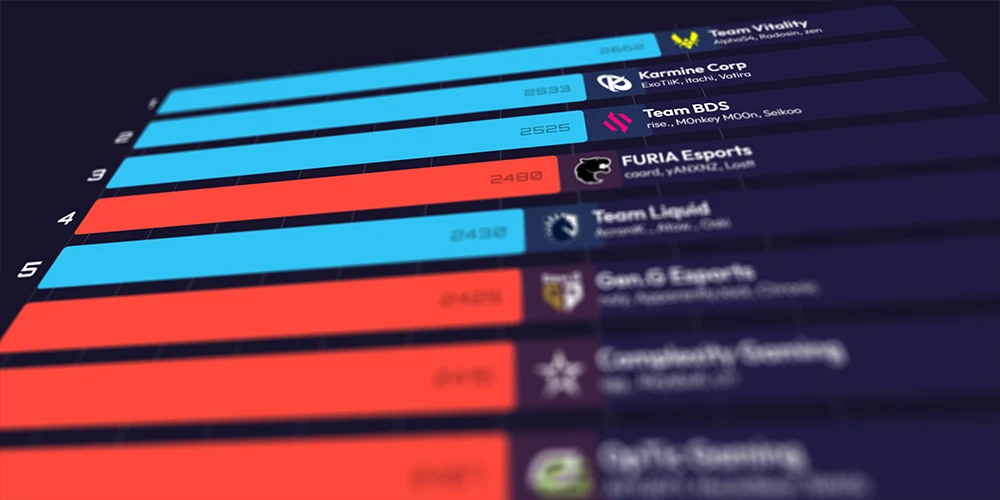 Spring Major in review
The Spring Major was a huge success and very entertaining for anyone but the most diehard NA fans. zen has once again lived up to the hype and so has the rest of EU. They even exceeded expectations slightly. For NA, I can offer some copium though. With V1 and FaZe missing, two of the top 5 ranked NA teams weren't even there. This isn't great consolation, however, as V1 didn't end up making Worlds. Still, there is a fascinating phenomenon called regression to the mean. It basically just means, when someone overperforms, they're likely to underperform later. It also works the other way around. That alone makes it unlikely that Worlds will be as dire for NA again.
Rule One successfully stole the last Worlds spot from V1, so we'll see Falcons and Twisted Minds in the Worlds Wildcard now. That also means we're expected to have 2 MENA teams in the Top 16 for the first time. Let's see how they use that opportunity. SAM, OCE, and APAC unfortunately don't have anything positive to report. Only one victory over a flailing FURIA between all of them.
The total region adjustments are: MENA +35, EU +15, APAC -4, SAM -6, OCE -11, NA -17. OCE and APAC still walk away with more points than they had a month ago due to their performances in The Draw.
The AI predictions overall were decent for this tournament: 24/31 correct (74%). Unfortunately, due to the way that brackets can fall apart on a single result, the Pickstop result was only a silver medal. That makes it the worst AI result for an international Major.
If you want to see the overall rankings, they're available on the usual page. I want to once again honor the best performing players at the Major. For that purpose, I set all players rating to the same starting rating before the Major and let the model work it out from there. The starting rating was the average of the attending teams (2350). Check it out below: