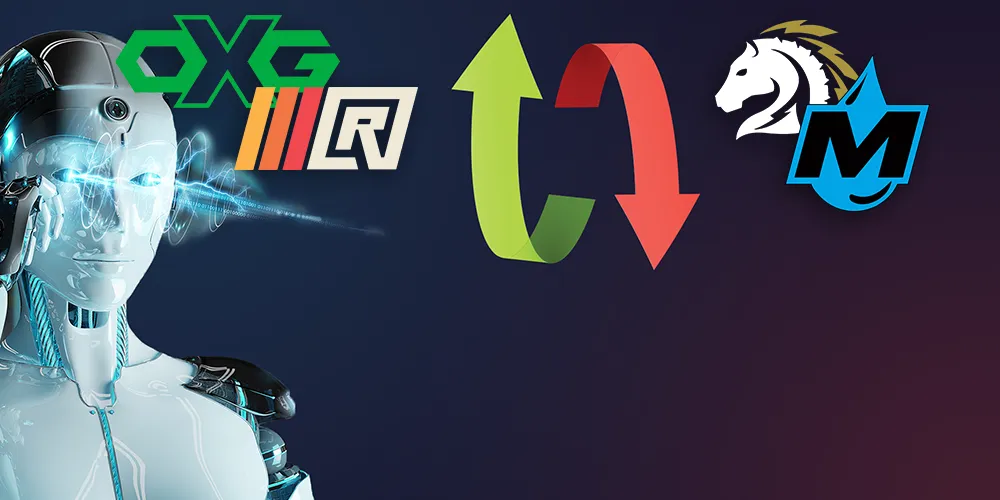 AI Ranks Winter Roster Moves
My video showing off the AI, and how it performes against professional analysts (JohnnyBoi, Gibbs, Lawler, Virge, Wayton) at the World Championship, is finally live on YouTube!
Fall Major Retrospective available here.
Edit: Added 3 more rosters to the bottom and fixed missing roster list for KRÜ.
The trade window is over and all the rosters are locked. If you want to know more about all the drama and details of the moves, you should go check out ShiftRLE.
This post covers what the AI thinks about the roster moves of the top teams. I'll also provide a very short unstyled ranking of the top teams. I haven't yet finished automating the rankings in the style that I had in the Fall Major predictions. But I will have that done by the time the Winter split begins, and then they will stay up to date every week with the results.
Oxygen Esports (+44)
+rise. -oaly. => Archie Joreuz rise.
This is certainly the move that caused the most drama. It is also a good one for Oxygen. Oaly is a great player, but few can compete with rise. The new roster will have a starting rating that is +44 points higher than the current Oxygen and puts them nearly on par with Karmine Corp and FaZe Clan.
Moist Esports (-80)
+juicy -rise. => Aztral Joyo juicy
Moist may come to miss rise very dearly. To those not following EU in detail, juicy is coming from HEET, currently placed 15th in EU. The team's rating is 300 points below the old Moist. Due to his great individual performance, juicy has been able to gain 110 more points than the team average, but he has some massive shoes to fill. Moist drops to 6th in EU, just 20 points ahead of G1; however, there has actually already been a show match between the two teams. G1 was able to win it which may only be due to a lack of team experience from Moist, though it could also be a sign that the weighted average of the AI was too generous in this case.
FURIA (+25)
+Lostt -CaioTG1 => Caard Lostt. yanxnz
FURIA are stealing the 2nd best player from the Fall SAM region (Sad grabbed the top spot at the Major). Regardless, the upgrade isn't that big because Caio is no slouch. They stay in 6th and creep a bit closer to V1. The season will show whether Lostt is as talented as some have been predicting. He has been called a new yanxnz. Quite the compliment, considering that yanxnz is still sitting at 8th in the world (the highest rated player not at the major). Right now, they're 170 points apart.
The Club (+1) [unconfirmed: Ninjas in Pyjamas]
+CaioTG1 -Lostt => Aztromick Bemmz CaioTG1
How can this trade be good for The Club? Well, it has something to do with the biased average the AI uses. It's weighted towards the top players because even when a player doesn't have that high of a rating, the pros are usually picking them up for a reason. This does cause a bit of inflation in the system, but it hasn't caused any issues so far. Ok, so Caio is really good and not much lower rated than Lostt, but the question for The Club will be: "Can he take on the role as the best player and star player?" It's not a position he was in, in FURIA.
KRÜ Esports (+4)
+brad -Shad => brad droppz drufhinho
Brad is an upgrade over Shad, but it seems the AI disapproves of droppz' stats, and that drags the starting rating down. We'll see if they have a chance against the big 2 in SAM. The AI thinks it's already a done deal though. They can certainly get an upset once, but shouldn't have the consistentcy to qualify.
Rule One (+45)
+M7sN -Nadr => Kiileerz. M7sN Rw9.
After one split of not making it to the major, Rule One try to find the upgrade to change that. The AI agrees with their choice. M7sN, Twiz, and T7LM were tied for the honor of being the highest rated players not playing for Falcons or Rule One. And this 45 point upgrade puts Rule One from ~20 points behind, to ~30 points ahead of Falcons. Those are slim margins, but a good sign nonetheless. It should be an interesting battle in MENA this split.
Pioneers (-46)
+hntr -Superlachie => bananahead hntr Scrub
In a move that cannot be gameplay related, Superlachie left or was kicked in the trade window. Not much is known publicly, but the AI is sure it won't help them win. It thinks that kaka or Fiberr (also misty) would've been a much better pickup. Instead, those two have teamed up, and Ground Zero are now the exact same rating as Pioneers. hntr will have a chance to prove his talent and get the Pioneers back to the next Major.
Ground Zero (+35)
+Fiberr -finn => Fiberr kaka Shorez
This move is AI approved again. Lowest rated player out, highest rated available (bar Superlachie) in. With this move and some fortune on their side, they have equalized with Pioneers and should be looking to fight them for the 2nd Major spot.
Other
I will list a couple of other moves here. They're not about the big teams, so I don't have much to talk about.
Dignitas (-17)
+evoh -delta => Andy dreaz evoh
Knights (-8)
+Zineel -.ZPS => CHEESE. sosa Zineel
Guild Esports (-20)
+Gomb -Stake => accro Gomb LuiisP
HEET (-62)
+carca -juicy => carca Forece parka
Endpoint (-44)
+emre -Simas => Crispy Deevo emre
M80 (+48) [prev: Luminosity]
+percy. -alraz => Kinseh LionBlaze percy.
Akrew (+130)
+tcorell -astro => Fefe oath tcorell
Unlike the other teams, they have already played a tournament together and won the entire thing. That is a big reason of why the rating is that much greater. It was already greater before the tournament though.
suhhh (+13) [prev: Soniqs]
+Toxiic -Metsanauris => Mikeboy ThO. Toxiic
Vindico (+16) [prev: Old Farts]
+Metsanauris -Tigree => Metsanauris Speed Yukeo
KOI (+5) [prev: Rogue]
+night. -Taroco => Aqua Gyro. night.
DarkZero (+49)
+creamz +.ZPS -Zineel -JPow => creamz Turbopolsa .ZPS
Ghost Gaming (+48) [-10 vs. 26 RISING]
+xpurt +money -tcorell -Shock => hockser money xpurt
Regional rankings
These lists are only for reasonable major candidates.
NA
Gen.G Esports (2465)
FaZe Clan (2442)
Spacestation Gaming (2365)
G2 Esports (2346)
Version1 (2345)
FURIA Esports (2327)
Complexity Gaming (2289)
Optic Gaming (2259)
NRG Esports (2239)
EU
Karmine Corp (2442)
Oxygen Esports (2424)
Team BDS (2329)
Team Liquid (2307)
Evil Geniuses (2305)
Moist Esports (2264)
G1 (2247)
Team Vitality (2212)
Quadrant (2191)
SAM
Team Secret (2214)
The Club (2141)
KRÜ Esports (1966)
OCE
PWR (2125)
Pioneers (1915)
Ground Zero Gaming (1915)
MENA
Rule One (2270)
Team Falcons (2244)