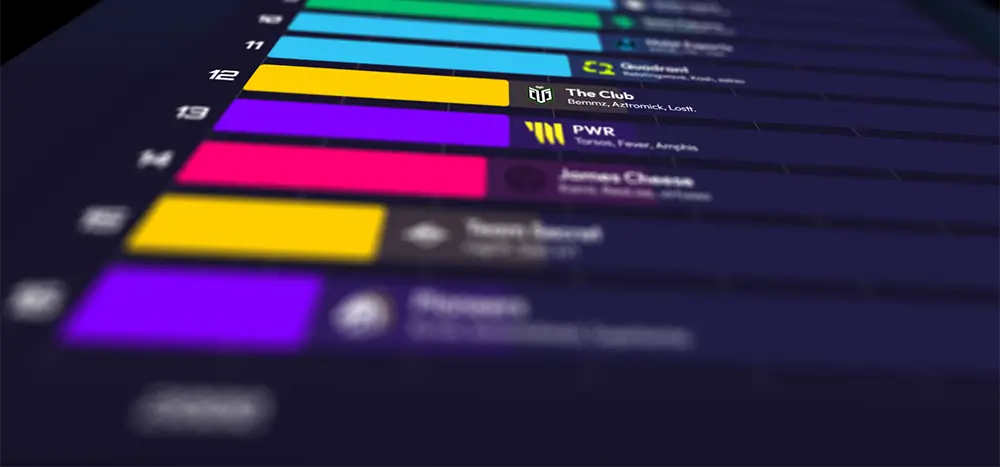 Winter Major in review
The prediction article written prior to the major is available here.
The Winter Major is over and it's been a tournament of few upsets. G1 thought that was boring, so they made sure to upset and get upset. That made the predictions look really smart at first, then really dumb. But at least, I think, everyone has seen their potential on day one, and I have now seen why they don't live up to that potential. The AI predicted 77% of the matches correctly and we placed top 4% on pickstop.gg, keeping up the 100% gold rate for international LANs.
The positive surprise this LAN was KRÜ while GenG and Oxygen underperformed. For Oxygen, this is starting to become a pattern in playoffs that even LAN boi rise couldn't stop. If you check the general team rankings, you may wonder why there is so little movement for most teams, but it pretty much comes down to the fact that every positive result for those teams had a negative counterpart. G1 > FaZe > KRÜ > G1; and Falcons > Vitality > Oxygen > Gen.G > Falcons.
Region performance was definitely in favor of EU at this tournament, although there are some caveats. Dignitas was expected to lose in their group and thus, their result is not that surprising; however, G1 were expected to lose and made an upset happen. That favors EU. Group C and D went exactly as expected region wise.
SAM performed pretty close to the predictions at the major. While the win over G1 is individually considered an upset, they had 5 total matches vs. EU/NA. Winning 1/5 is a 20% win rate, and therefore, an expected rate of upsets. OCE and APAC underperformed as expected. That's kind of an oxymoron, but I'm just saying that their upsets are so rare that occasional 0 win LANs are expected. However, at least OCE has been winning 12% of series vs. EU/NA since LANs have come back, and thus getting 0% is still an underperformance. Falcons did as expected by the model.
The regional adjustments in the last 2 weeks (including data from the Corelli Cup) were: EU +8, NA -12, SAM +28, MENA +5, OCE -18, APAC -17. Minor regions can move around faster because there is less certainty about their current rating.
The general rankings are obviously updated already, but I wanted to know how the AI rated each player specifically at the major. For that purpose, I set all players rating to the same starting rating before the major and let the model work it out from there. The starting rating was the average of the attending teams (2285). Check it out below:
Player Rankings at the Winter Major
Do you agree with these ratings? Do you think anyone important is missing? I'm guessing that specifically G1 will be regarded as placed too high. Keep in mind that tournament placement doesn't influence the ranking. They beat a really good team in FaZe, then lost to KRÜ. You also don't lose points in Rocket League specifically for throwing, which is one of the biggest weaknesses of using stats.
I hope this example of a tournament specific ranking also illustrates how recent player performance influences the general rankings. The regular player rankings just do the same process over and over again without resetting between each tournament. If you want to learn more about how the player rating works, I've got a full article on the topic.